Innovation meets sustainability: A deep dive into our groundbreaking hemp protein project.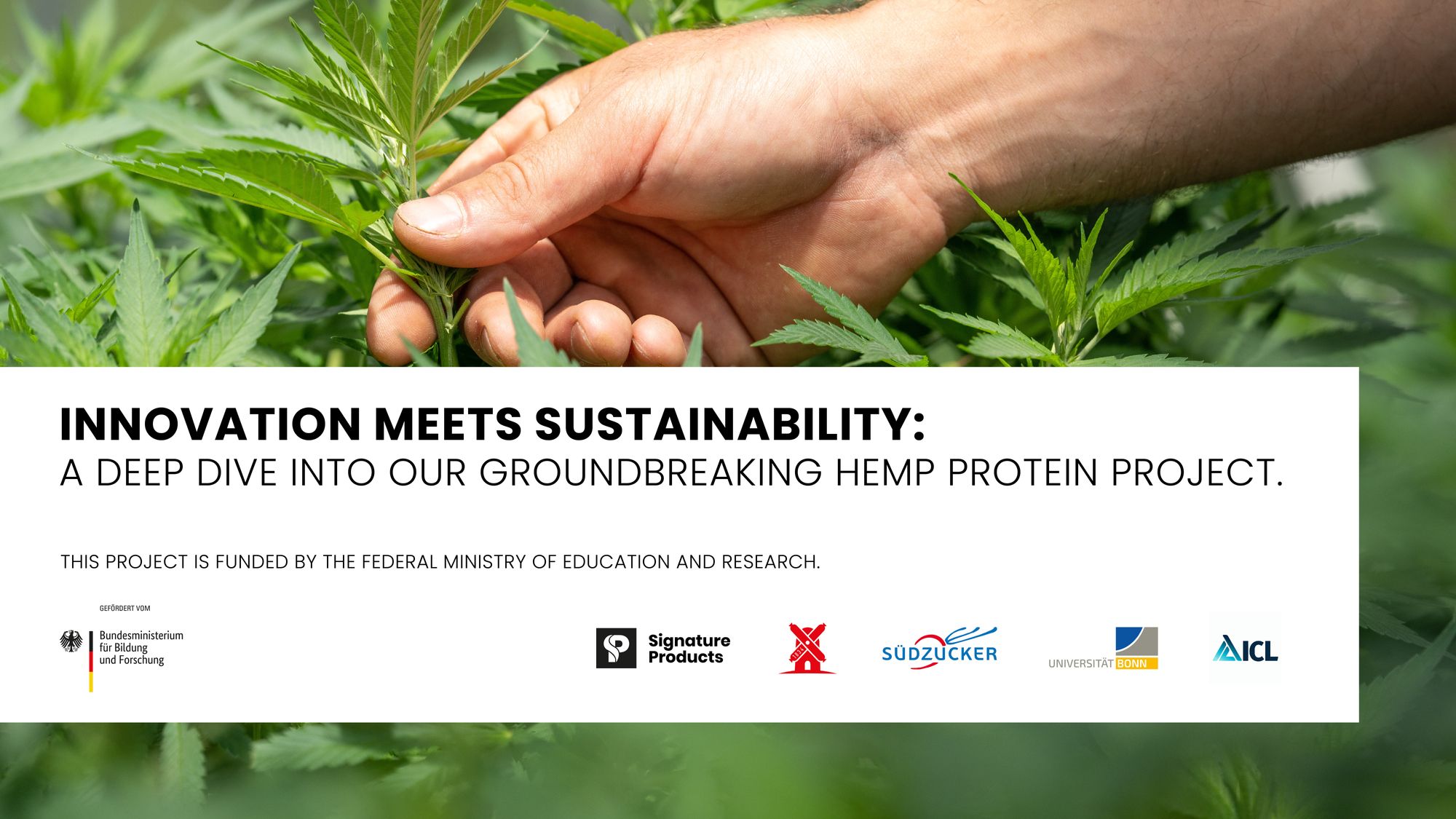 There is no denying that the world we live in is constantly changing. Technology, climate, population numbers and dietary habits all influence how we use our planet and its resources. One of the most exciting trends we have seen in recent years is the growing interest in plant-based proteins and a more sustainable diet. At Signature Products, we are proud to be part of this movement and to do our part by finding innovative ways to incorporate beneficial hemp into our diets.

Our latest project, "Innovationsraum: NewFoodSystems – hemp4Food" (Innovation Space: NewFoodSystems - hemp4Food), is an exemplary demonstration of our continued dedication to innovation and sustainability. Thanks to generous funding from the German Federal Ministry of Education and Research, we have the opportunity to dive deeper into the potential of hemp as a source of plant proteins together with the University of Bonn, Rügenwalder Mühle, Südzucker and ICL Ladenburg.

Hemp: an untapped gold mine

Hemp is one of the oldest useful plants in the world and is characterised by its high industrial importance. Although in the past it was mainly used for fibre production, hemp offers much more than that. In particular, the plant's seeds are an extremely nutritious resource.

Rich in fats (25-35%), proteins (20-25%), fibre (10-15%), vitamins and minerals, hemp seeds are an excellent source of plant-based nutrition. However, so far their potential has not been fully exploited. Our project aims to change that.

Hemp protein development: Our approach

Our approach is based on the full utilisation of hemp seeds to produce high quality and functional protein ingredients for human nutrition. To achieve this, we will investigate various dry and wet processing techniques that may be suitable for the production of protein ingredients from hemp seeds. We are particularly interested in investigating the chemical and functional properties of the resulting protein ingredients and assessing their application potential.

In addition, we are also exploring the utilisation potential of the side streams generated during the processing of hemp seeds. Our goal is to optimise all aspects of hemp production to enable sustainable and efficient use of this valuable resource.

What does that mean for you?

With this project, we have the opportunity to fundamentally change the way we look at and use hemp. We believe that hemp proteins could play an important role in our diet in the future. Whether in the form of food supplements, as an ingredient in plant-based meat alternatives or in a variety of other applications - the possibilities are endless.
By intensifying the use of commercial hemp, we can help make our diets more diverse, healthy and sustainable. We look forward to the coming years of collaboration with our partners and can't wait to share the results of our research with you.

Stay tuned to learn more about our project and the exciting developments in hemp protein. Together we can create a more sustainable future.