How Hemp contributes to EU Green Deal objectives
Hemp can make a decisive contribution to achieving a large number of goals set by the European Green Deal initiative.
Hemp is currently one of the fastest growing agricultural and industrial markets. But not only that: In the future, this miracle plant can make a decisive contribution to achieving a large number of goals set by the European Green Deal initiative and to driving the gradual but irreversible transition of the EU towards a sustainable, climate-neutral economic system.

In their article "Hemp: A Real Green Deal", the European Industrial Hemp Association (EIHA) makes a convincing case for how hemp can benefit the objectives of the EU Green Deal in the areas of industry, sustainability, biodiversity and agricultural policy:
"Hemp can make a key contribution to upscaling innovative solutions capable of accelerating the transition towards a regenerative growth model that gives back to the planet more than it takes whilst creating many thousands of new green and highly-skilled jobs in rural areas and in manufacturing. "
Learn in this article how in accordance with the EU Green Deal initiatives, our company Signature Products can help revolutionize the European health, environmental and economic market along the entire value and production chain.
With hemp towards climate neutrality
Europe's future depends on a healthy planet. With the Green Deal, the EU is determined to use its position to lead on global climate action. The aim is to be the first continent to achieve a net-zero emissions balance through climate neutrality by 2050 and thus also to become a role model for others. A net-zero emissions balance is achieved as soon as the amount of greenhouse gases released into the atmosphere is neutralized. The EU aims to spend 30% of its overall budget for 2021-2027 on tackling climate change and its effects.

🡺 As an alternative to carbon-based raw materials, hemp can make a significant contribution to carbon storage, as the plant absorbs a significant amount of CO2 through photosynthesis. One hectare of hemp binds 9 to 15 tons of CO2, which corresponds to 1.6 tons of CO2 absorption per ton of hemp stalks harvested. As a result, the hemp plant can absorb a similar amount of carbon from the atmosphere in the same area under cultivation as a young forest - and it also grows faster (approx. 16-20 weeks).
Interested to know more amazing facts about hemp? Watch our youtube video:
Creation of a sustainable economic model
The Green Deal is about all aspects of life: through a compact set of policy initiatives, it seeks to develop new business models and boost economic growth in ways that create better jobs and enhance the well-being of society. A holistic and cross-sectoral approach is required in which sustainable action in all areas of life - environment, transport, energy, finance, industry and agriculture - is to be promoted.
Consequently, all European companies will be directly affected by the measures resulting from this holistic concept for the transformation of the European economy. In this way, even more pressure will be exerted on them in the future to take responsibility for the impact of their economies.
🡺 Hemp helps companies develop a sustainable economic model that takes into account all aspects of social life. Mainly due to its versatility, the plant can offer numerous health, social and environmental benefits in all sorts of industrial sectors and ultimately even help to reduce dependence on synthetic, difficult-to-recycle materials and fossil fuels. It can potentially pave the way for companies towards extremely profitable, future-proof, innovative markets.
Promotion of socially responsible companies
The EU Commission not only wants to create a European climate package, but also wants to be a global pioneer for sustainable development. To this end, it is also preparing a detailed action plan for the transformation of the European economy, which affects, among other things, the resource-intensive sectors of energy, mobility, building and construction, but also agriculture.
Educational programs will also be geared towards the Green Deal: Employees from various industrial sectors should be encouraged to establish themselves in a more environmentally friendly sector and to anchor sustainability in everyday business through further training.
🡺 Hemp helps promote socially responsible behavior by companies that trade in it as a raw material along the entire value chain. In addition, by creating a local network of farmers, operators and research institutes, profitable land use can be maximized and many resource-intensive sectors of the economy can be directly affected and potentially revolutionized.
🡺 As a company with a strong focus on sustainability, Signature Products is active in various social and political areas through various cooperations. Learn more about it below:
Of particular relevance among the extensive initiatives of the Green Deal in the area of ​​nature conservation are the biodiversity and forest strategy as well as the "farm to fork" strategy:

Revolutionizing the current food system
The "farm to fork" strategy aims to support the EU in converting the current food system to a sustainable model and reducing its impact on third countries. The focus is on the development of transparent value chains with more sustainable production processes. The individual measures of the action plan cover the entire product life cycle.
🡺 As a sustainable plant, hemp can be fully utilized in a wide range of production sectors, which is why it also has enormous potential to revolutionize Europe's current food system and shift the focus to creating local supply chains. Due to the changing consumer habits and growing number of industry innovations, the European hemp protein edibles market is also expected to grow tremendously in the coming years.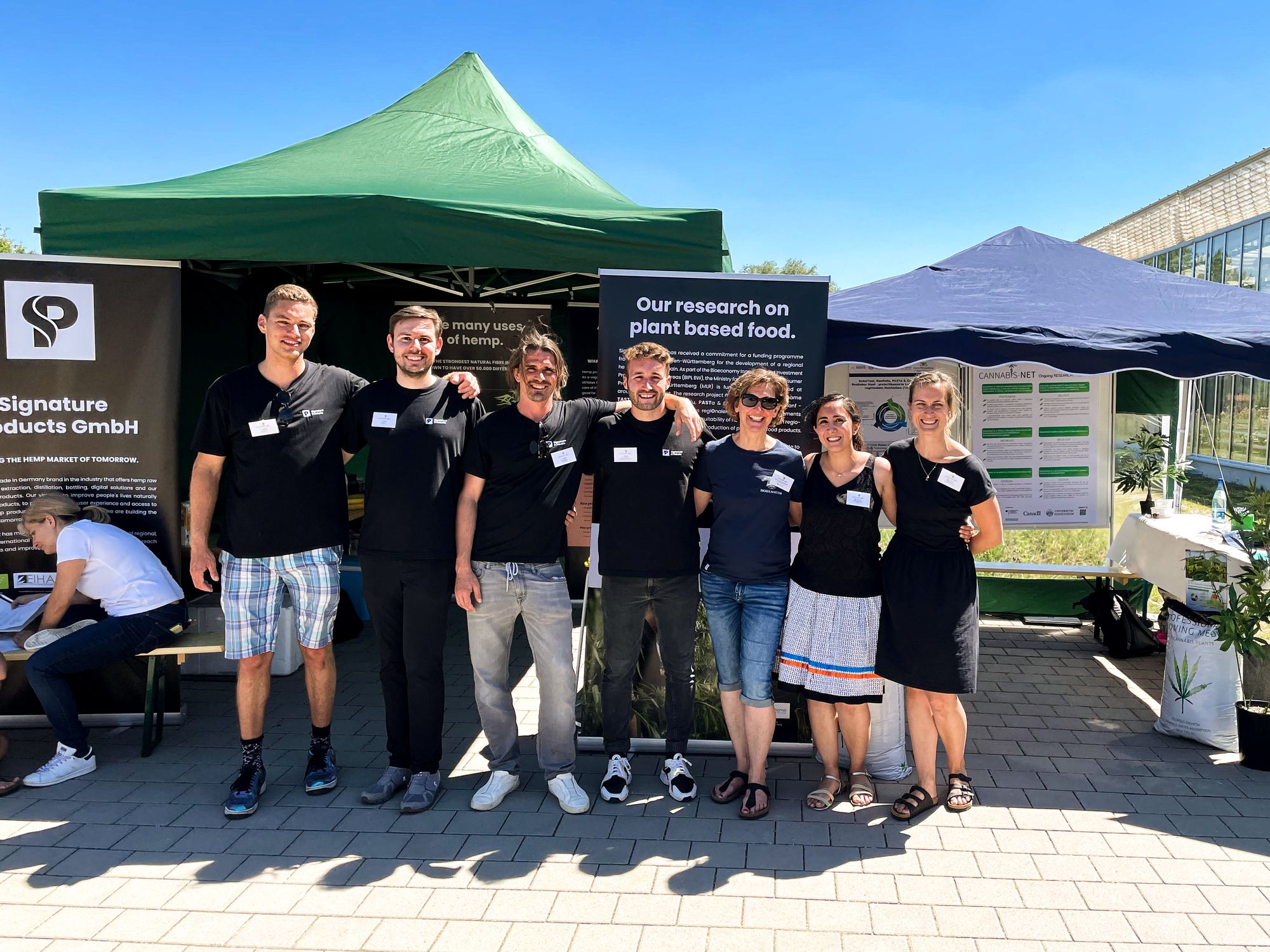 🡺 Our Signature Products team wants to become a pioneer in creating a fully organic, circular economy using hemp. We are currently working in cooperation with the University of Hohenheim on the development of a local value chain for the sustainable production of various healthy foods from hemp protein, including meat alternatives such as hemp schnitzel. The products are to be produced and distributed regionally, thereby promoting the measures of the EU Green Deal at the same time.
Promotion of sustainable and healthy consumer behavior
Key priorities include promoting more sustainable consumption patterns and healthier diets, and supporting a sustainable food system from production to consumption. Consumers should be specifically empowered to choose sustainable foods that benefit their health and quality of life and reduce health-related costs for society.
🡺 Hemp has a number of health benefits for consumers in the form of food and has therefore been considered a nutritious staple in many cultures for decades. Hemp seeds and hemp oils are considered a real superfood due to their large amount of omega-3 and omega-6 fatty acids, vitamins, minerals, proteins and amino acids. Hemp blossoms and leaves also contain many valuable phytochemicals (cannabinoids, terpenes and polyphenols), all of which are conducive to healthy consumer behavior.
🡺 The hemp plant also has many benefits as animal feed for birds and cattle and, according to recent studies, even in the form of extracts due to its high content of powerful antioxidants which can prolong the life of bees:

It would therefore be worthwhile for companies, farmers and consumers to focus on the support or development of locally and organically produced food in the hemp sector with regard to the EU Green Deal - especially since the market for plant-based food should grow to 2.4 billion euros by 2025, according to estimates.
Energy- and resource-efficiency
The EU Commission published an action plan for the circular economy, which will result in numerous legislative changes for improved energy and resource efficiency.
🡺 Hemp has the potential to create highly profitable markets which are energy and resource efficient. The plant can be processed into various biomaterials, for example for packaging and car interior parts for the automotive industry and is reusable, recyclable and compostable as a plastic substitute - in contrast to harmful non-renewable plastic compounds. Hemp fiber also contains no dangerous toxins and is much more robust than plastic made of synthetic fibers or petroleum-based material.
🡺 Hemp-based building materials exhibit excellent thermal conductivity: Hempcrete is suitable for regulating heat waves during summer and reducing heat losses during winter, thereby ensuring ideal thermal comfort inside a building. In addition, hempcrete is non-flammable, resistant to mold and bacteria, offers efficient sound insulation and is naturally moisture-regulating. Hemp can thus make a decisive contribution to reducing the energy consumption of buildings.
🡺 Furthermore, hemp can actually do many of the same jobs as its cotton-derived alternatives. Compared to cotton, hemp grows very quickly and requires little water or fertilizer. The environmental impact of hemp cultivation is therefore very small compared to cotton production. Hemp fiber waste can also be processed into carbon nanostructures and potentially be used in high-performance supercapacitors.
🡺 Hemp paper is also an interesting industry sector with great potential in the innovative market. Industrial hemp consists of around 77% cellulose - three times more than wood and other agricultural waste. Research shows that in the same area where forests are grown, four times the amount of paper can potentially be made from hemp. Furthermore, hemp paper can be recycled up to 8 times, while paper made from wood pulp can only be recycled up to 3 times. Thus, hemp can potentially also support measures of the EU Green Deal concerning the promotion of deforestation-free value chains.
Promotion of natural agriculture and biodiversity
The forest and biodiversity initiative aims to create more space for nature in our lives. Specifically, it is about strengthening the protection of forests, seas and bodies of water, taking a better look at ecosystems and restoring or recovering biological diversity in Europe. To this end, the land use sector is to be expanded in the future and the use of pesticides and fertilizers as well as other toxic chemicals and antibiotics in agriculture are to be reduced.

🡺 Hemp is ideal for environmentally friendly, natural agriculture and also promotes biodiversity in a natural way. It supplies the soil with nutrients and can be used in agriculture to improve the soil structure. What's more: hemp could also play an important role in keeping the bee population fed during times of flower scarcity. Because hemp plants are wind-pollinated, they don't produce nectar - however, they do produce large amounts of pollen, which is attractive to bees, according to one study.
Learn more about it in the following article:
🡺 In the future, hemp will play a key role in phytoremediation, a process by which soils are naturally decontaminated. Hemp is one of the plants that is able to absorb pollutants and harmful chemicals from the soil, air and water, thus promoting the biodegradation processes that take place in nature.
Phytoremediation is considered to be the least harmful soil decontamination method because it preserves the environment in a more natural state by using natural organisms to address the problem instead of technology or chemicals. Learn more about hemp's phytoremediation ability in the following article:
🡺 Hemp can also play an important role in increasing soil fertility in rotary farming. Its roots can produce certain compounds that increase microbial diversity in the soil, which can ultimately improve soil health. In addition, growing hemp provides large amounts of biomass, which returns to the soil and decomposes - thereby returning nutrients to the soil. In this way, hemp naturally promotes the yield of subsequent crops.