Hemp Around the World - Countries to Watch in the Growing Industry
In this article, follow us on a quick trip around the world and learn which countries have become hotspots for hemp production.
The hemp plant can grow in a variety of climates, which means that it can be cultivated almost anywhere in the world. Although there are still restrictions on its use in some countries, total global hemp production has increased rapidly in recent decades.
The following are countries that currently rank among the leaders in the hemp industry:
China
China is considered the birthplace of hemp and has notoriously dominated the hemp market for years. Today, this country produces the largest amount of commercial hemp annually and remains the world's largest exporter of hemp paper, textiles and biocomposites. China's 13th Five-Year Plan also includes the country's intention to plant 3.2 million hectares of hemp fiber for textiles by 2030. This move is driven by a desire to replace cotton with more sustainable alternatives.
France
France is the undisputed leader in the European hemp industry, producing the largest share of hemp seeds, as well as hemp-based pulp and paper. The county was responsible for more than half the amount of hemp produced in Europe between 1993 and 2015. The hemp seed and fiber varieties grown in France are among the most popular in the industry. France is also well-known and recognized for its production of hempcrete (hemp-lime composites) for the construction industry.
Italy
Italy was the second largest hemp producer in the world after the Soviet Union in the 1940s. At that time, more than 100,000 hectares of hemp were cultivated on Italian soil. However, in 1961 the Italian government signed the Convention on Narcotic Drugs, and hemp production declined as a result. Italian farmers have only been allowed to grow hemp again since 2016, which is why the Italian hemp industry is steadily growing again.
Netherlands
The Netherlands has strengthened its position as a strong player within the European hemp industry in recent years. In 2016, the county increased its hemp acreage by over 600 hectares compared to the previous year, making the country the third-largest hemp producer in Europe. However, there is concern that insufficient arable land will limit production, which is why Dutch companies like HempFlax have started cultivation in Romania.
Estonia
Estonia is emerging as a powerhouse in the European hemp industry. The number of hemp farms in this small Baltic country has increased since 2004, with farmers cultivating thousands of hectares of hemp every year. Around 90 percent of the hemp grown in Estonia is exported, most of it to Germany. However, the Estonian Organic Protein Cooperation, founded in 2017, aims to bring Estonian hemp farmers together to promote regional production of organic hemp-based products.
Romania
Romania, once Europe's largest hemp producer, is bouncing back after years of decline. In 2011, only 10 hectares of hemp were officially registered in Romania. However, in recent years international demand has increased, new processing plants are being built and the industry is receiving more government support. According to the USDA's Foreign Agriculture Service, Romania is now among the top EU member states that grow hemp - mainly for fiber, oil and seeds.
Germany
In Germany, both the number of companies authorized to grow hemp and the amount of hemp grown have increased steadily since 1996. There are now well over 500 German hemp growing institutions. Hemp-based food in particular is widespread in German health food stores and even in normal supermarkets. According to the BfR, between 2012 and 2017 alone, more than 200 hemp-based products were launched on the German market, 150 of which were foods.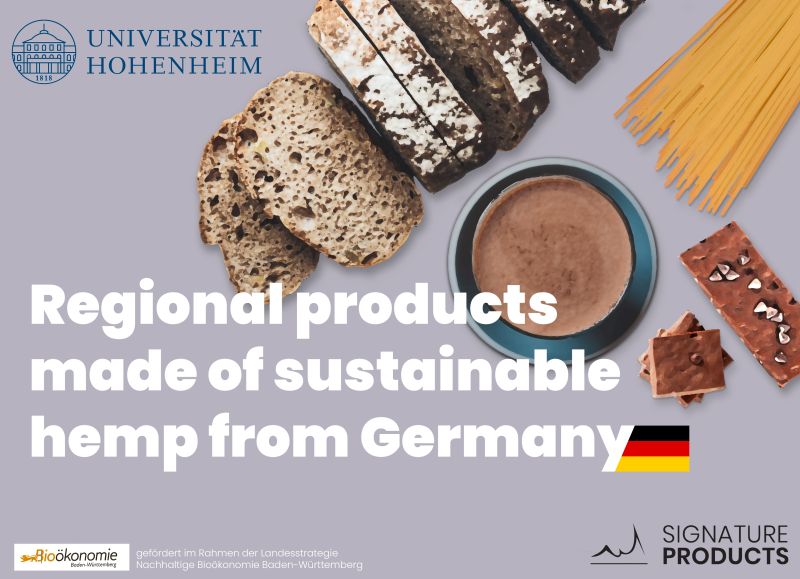 United Kingdom
The United Kingdom has developed into a major global producer of hemp-based animal bedding, paper and textiles since 1993. The country was granted state funding in order to open up new markets for natural hemp fibers. It is also considered the world's largest producer of medicinal cannabis and CBD products. Hemp cultivation was central to the development of the British Empire as it was used to make ship's sails and naval rigging.
Switzerland
Switzerland has a relatively small, steadily growing area of ​​hemp biomass cultivation - mainly for CBD extracts. The country also has a THC threshold of 1%, which is significantly higher compared to other European countries. As long as this maximum threshold is met, hemp can even be grown for personal use without a license. With increasing demand, the CBD market in Switzerland is expected to grow by 39% annually. The country also plans to lift its ban on medicinal cannabis, thereby introducing a regulated market for new products.
Poland
Hemp cultivation is considered a growth industry in Poland and has seen an increase of almost 80 percent since 2018. As one of the largest agricultural countries in Europe, Poland has great potential to become one of the most important European hemp producers. Farmers there have a long history of growing hemp and have also demonstrated the benefits of using hemp to clean up soil contaminated with heavy metals.
Austria
The hemp industry in Austria mainly produces hemp seed oil and medicinal products. The country's largest hemp cultivation area is located in Lower Austria, where hemp is grown for the popular brand Rapunzel, which is known for its high-quality, organic products. Hemp is processed there into various foods, such as flour, muesli, fruit bars and spreads.
Lithuania
This tiny country is already among one of the larger hemp growers in the EU. Currently, farmers in Lithuania can grow EU-approved hemp varieties for fiber and seeds, but they cannot process leaves or flowers for purposes other than research and development. These regulations are part of the first Lithuanian Hemp Law, which came into force in 2014. However, lawmakers are working to expand the use of the plant.
Canada
Canada is known for its progressive policies regarding the production, use, and marketing of hemp. Much of the annual amount of hemp produced in Canada is used for seeds and to make oils and protein powders. Recent market analysis suggests that the country's hemp supply has been outstripping demand, causing product prices to drop. The government is now working to find solutions to balance production with demand.
United States
The United States ranks among the leading hemp producers in the world. The gradual relaxation of laws surrounding the cultivation, processing, and production of hemp products are all contributing to the growing industry. Thanks to the 2018 Farm Bill, the country saw massive expansion with a total of 78,176 acres being planted in as many as 23 states. Hemp production there is mainly aimed at manufacturing fabrics, hempcrete, oils and textiles, much of which is also frequently imported to meet demand.
India
Since 2016, large-scale commercial cultivation of industrial hemp has been allowed in Uttarakhand, followed by several other Indian states. Consequently, strong growth is expected for the Indian hemp food and beverage market. Hemp requires very little water and is easy to grow, making the plant a sustainable alternative to conventional crops in many Indian states. The Hemp Foundation, an organization that works on researching and promoting industrial hemp cultivation, is also located in the Indian Himalayan region.